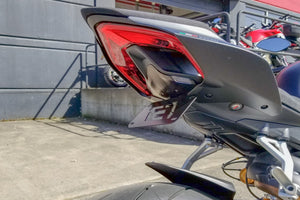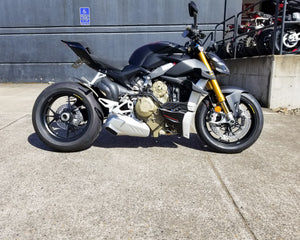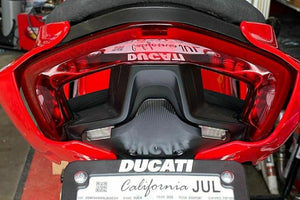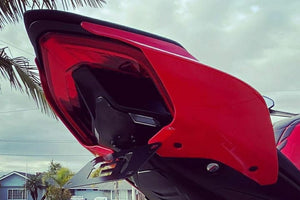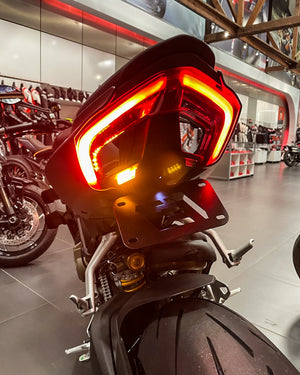 Streetfighter V4 Tail Tidy
Carved from Billet aluminum this tail tidy perfectly integrates with the lines of the V4 Panigale Streetfighter ONLY. Uses factory OEM electrical connectors. No cutting/splicing required. Plug and Play.

Integrated super bright Turnsignals and plate light.
There are 2 plate bracket options a more traditional 90° bracket and a tucked back bracket that is parallel with the undertail. 
Ships with Black Stainless Fasteners.
Uses factory electrical Connectors. 
An easy 3 bolt install no swapping of parts. 
** Early release Streetfighters require the Panigale V4 tail tidy. Somewhere around August delivery of 2020 the Streetfighter under tail and subframe changed requiring this specific Streetfighter only tail tidy. There is no easy way to tell which is which other than seeing if the tail tidy fits well.  
** The Plate light is not compatible with the angled back bracket.
** This tail tidy is ONLY compatible with the V4 Streetfighter. Any new, unused and uninstalled, V4 Streetfighter tail tidys purchased to be used on a different model will have a 10% restocking fee if returned or exchanged. 
*Please note that some international orders may be subject to additional charges on delivery*